Tijuana Day-Trip Transportation Service
Explore Tijuana with a private driver and leave the driving to us.
Choose your own schedule and itinerary.
We can pick you up from anywhere in Tijuana, including the San Ysidro border crossing,, the Tijuana airport, or your hotel or Airbnb.
We also offer a variety of vehicles to choose from, so you can find the perfect one for your group.
All inclusive prices. Our prices are all-inclusive, so you don't have to worry about hidden fees. We include vehicle rental, fuel, tolls, and driver service.
Book your Tijuana transportation service today!  We look forward to helping you explore Tijuana!
Safe and Convenient
Convenient, affordable, and safe transportation for your Tijuana trip
We will pick you up from anywhere in Tijuana and take you to all of your desired destinations.
Enjoy Tijuana with peace of mind: Our drivers are professional and knowledgeable, and they will help you to have a safe and enjoyable trip.
Customized Schedule
Enjoy a Day-Trip Tour of Tijuana with a Private Driver. Your private driver will follow your desired schedule, waiting for you at each place. Just walk across the border from San Ysidro to Tijuana. Your Driver will be ready for pickup at the border crossing station in Tijuana.
Private Driver Service
You will be served by professional drivers who know Tijuana well. Your driver will meet you at the border, hotel lobby, Tijuana Airport or Airbnb, anywhere you requiere pickup from in Tijuana.
Your Driver will follow your desired schedule, wait for you at each stop and drive you to the next location in your chosen itinerary.
Our drivers are ready to suggest the best places in Tijuana so you can enjoy your trip south of the border.
Choose Car, Van or Bus
We have several vehicle types for several size groups:
3-Passenger Compact sedan.
9-Passenger Vans
13-Passenger Vans
19-Passenger Vans
50-Passenger Bus
Pickup Locations in Tijuana
Pick up from San Ysidro Border Crossing in Tijuana
Park in San Diego or San Ysidro and walk across the pedestrian border crossing to Tijuana, Mexico.
Crossing into Mexico from San Diego is very easy. Best Pick-up location at the border in Tijuana is the San Ysidro PEDEAST, as is better located and well connected via Trolley to San Diego. There are a lot of parking lots near the border crossing, so you can park your car and walk across the border into Mexico. Your Private Driver will be waiting for you at the San Ysidro Border Crossing in Tijuana.
Pickup from Otay Mesa Border Crossing in Tijuana
If you walk across the border at the Otay Mesa Border Crossing, you will immediately find some malls. Your private driver will be parked nearby waiting for your call to approach for pickup.
Pickup from Hotels or Airbnb's
If you are staying in Tijuana, we will do the pickup from your desired location, either hotels or Airbnb. Your private driver will be ready for pickup at your chosen location in Tijuana.
Pickup from Tijuana Airport
We have federal permits for pickups at the Tijuana Airport, so after your landing, when you are ready just go to the curb and call your private driver, he will be parked nearby waiting for your call and then will approach at the boarding area at the Tijuana Airport.
Tijuana Transportation Service Specifications
Service: Local Day-Trip Transportation in Tijuana.
Pickup Locations: Suggested at San Ysidro or Otay Mesa Border Crossing Stations, Tijuana Airport, Hotels & AirBnb's.
Included: Vehicle Rental. Professional Private Driver Service. Fuel. Passenger Insurance (on board). Up to 10 hours of service.
Not included: Overtime. Accommodations. Admissions. Airfare. Tips. Meals. Wine Tastings. Any product, service or activity not mentioned in the "Included" section above.
Schedule and Itinerary
Our Private Transportation Service is available between 7:00 AM and 11:59 PM. Services that extend after midnight will count as Overtime.
You will have up to 10 hours of service included.
Feel free to send us your desired schedule and itinerary and we will make sure your private driver is ready and knows all places.
If you need suggestions, we can provide recommendations for attractions, restaurants, bars, breweries, taco shops, nightclubs, hotels, museums, etcetera.
Itinerary Suggestions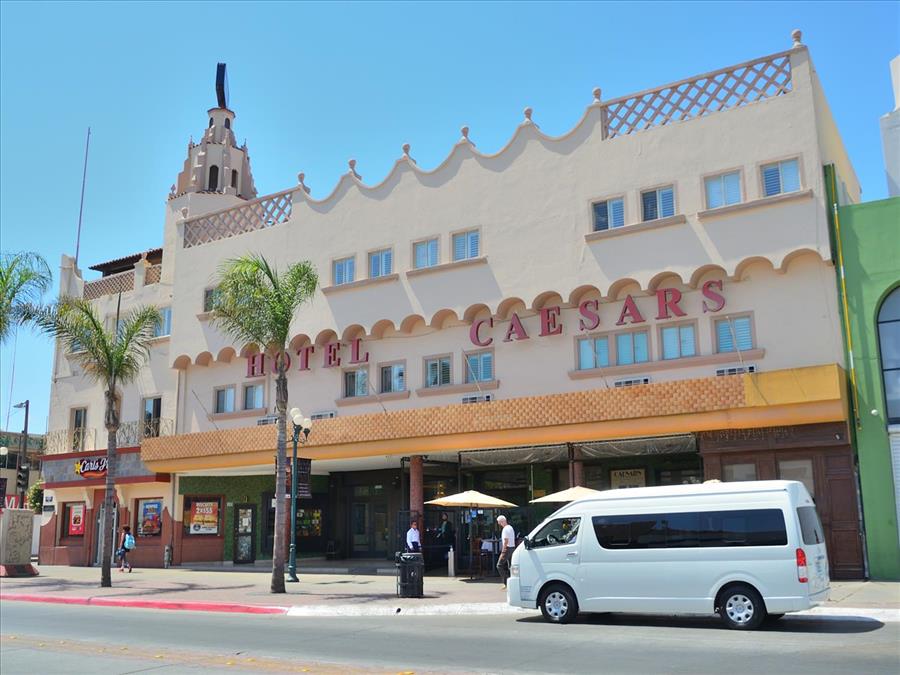 Here are some ideas for your Tijuana excursion itinerary:
Caesar's Restaurant: This famous restaurant is where the Caesar's Salad recipe was invented. Now they have great cuisine with a great selection of mexican wines and craft beers. They will show you how to prepare your Caesar's Salad with the traditional recipe.
Hidalgo Market: The most mexican market in Tijuana, you will find a great variety of mexican arts and crafts, mexican candy, grains, liquors, fruits, vegetables and delicious mexican food.
Popo Market: Similar to Mercado Hidalgo but smaller, this one is located downtown across the street from the Tijuana Cathedral.
Tijuana Beaches: The beach at Tijuana is a nice place to relax and walk around. There are plenty of cafes, small restaurants, taco shops, fresh seafood bars and souvenir stores.
Tijuana Breweries: Do the Craft Beer Tour in Tijuana, this is the best city in Mexico to visit craft breweries, and most are located in the tourist area near downtown. Some highlights: Mamut, Border Psycho, Teorema, Ludica, Azteca. Besides craft beer, you can enjoy delicious food from mexican snacks to sliders and fresh seafood.
Tijuana Wineries: Tijuana is home to the largest wine bottling company: L.A. Cetto, they grow grapes around Ensenada and bring the wine to Tijuana for bottling. You can visit and tour the facilities in Tijuana and enjoy a wine tasting. There are other places for wine tasting, like Casa Baloyan and regional wine bars like BajaTerra. Pan e Vino, GSalinas, and La Contra.
Tijuana Cultural Center: It houses the Californias Museum, with interesting exhibitions about the history of the "Californias", the area which at one time was mexican territory. You will find an aquarium, an IMAX theater with interesting documentaries, and art exhibitions. On weekends there are special cultural and gastronomic events, as well as concerts.
Mexican Food experience, from tacos to the best Baja-Med experience. If you like mexican food, we will take you to delicious places, from tacos stands, to gourmet restaurants. We can suggest very traditional dishes for a great experience.
Xolos Soccer Stadium: The local soccer team Xolos stadium is a great place to visit to enjoy a football soccer match or event, or just enjoy the view from the nice bar inside.
Nightlife Tour: Tijuana is famous for its nightlife, so what best way to go from one place to another in Tijuana, than with a local private driver and car service.
Arts & Crafts Market: Admire yourself in the creativity of mexican artisans in the Artisanal Market of Tijuana. There are a lot of shops that show traditions from different parts of the Mexican Republic.
Easy Online Booking
Just choose your vehicle and date and book online. You will receive an immediate confirmation. We will send you a follow up email and will be looking up for more details on your desired schedule.
If you need more info or have questions, please see our FAQ's or contact us.
Gracias amigos!